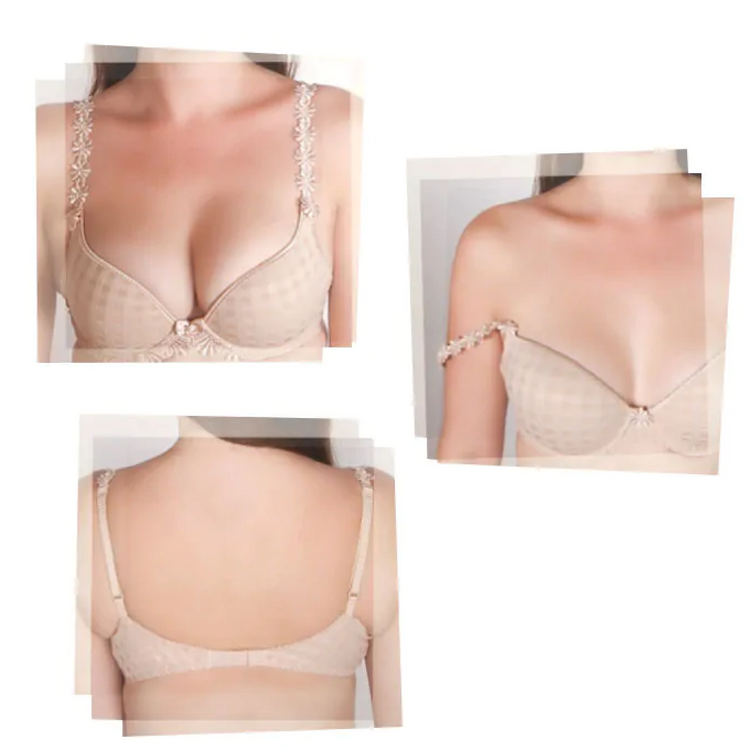 It's time for a new bra if…
1. Your cup is too small 2. Your straps fall down 3. Your band rides up
Bra Fitting is our Specialty!
Your bra can not only make or break your wardrobe – it can make or ruin your day. A properly fitted bra is key to making your clothes - and you - look and feel beautiful! Too many women guess their bra size or quickly choose one in a department store without taking the time to have their bras fitted. We have all paid the price with lumps, bumps, slipping straps, and uncomfortable tugging. That's why everyone at SOL has gone through extensive training to learn the secrets of bra fitting, developed and perfected by our own Cindy Johnson in her more than twenty years in the fine lingerie industry. With a proper fit, you'll leave with bras you love that look and feel great.
Learn to Love Bra Shopping
Before coming to SOL, some women might be intimidated buying lingerie at a bra fitting store. But we change all that because at SOL - Store of Lingerie, bra shopping is fun! No more guessing games and confusion. We know the nuances of each bra we carry and can help you find the perfect size and fit. You will never waste time trying on bras that don't fit, or settling for something that isn't quite right. In a comfortable and private setting, you just relax and choose from all the beautiful bras and lingerie that fit you perfectly.
Bra Sizes
At SOL, we pride ourselves on carrying a wide selection of styles and sizes of bras to fit every woman! We have sizes from 32A to 44H and everything in between represented in our inventory of carefully chosen and hand selected fine lingerie. We are particular because we love our customers and want you to have only the finest European bras that offer exquisite design, excellent quality of construction, consistent sizing and fabulous fit. We work closely with lingerie designers so that you can easily find beautiful bras and lingerie that makes you feel fantastic – no matter what your size.
How often do you need a bra fitting?
Time changes everything. Especially our bodies, it seems! That's why it's important to make regular bra fittings a part of your calendar. Once you see how easy they are, you're not going to mind coming back to visit the SOL Girls that make you look at feel great! Just like you would plan and schedule medical screenings or automobile maintenance, remember to take a little time for yourself to make sure that everything is still fitting the way it should, and you're still looking your best. To make it easy to remember, Cindy Johnson, our co-owner and nationally-recognized bra expert suggests coming in on your birthday!
What to Expect
So what is a bra fitting at SOL - Store of Lingerie all about? No need to be nervous. It's probably one of the most rewarding shopping experiences you're likely to have. We want every part of your SOL experience to comfortable, informative and fun. We want to get to know you, your activities, your typical and special wardrobes. What size bra do you wear now? Does it fit well? Does it bother you? We'll do a visual check of your current bra, and from that can accurately predict your correct size. Some of our customers call it magic. We just call it lots of experience.